Rosetta Hardscapes
---
Rosetta Hardscapes partners with premier wetcast concrete manufacturers around the world to better serve each local market. Get the contact info for your local expert by filling out the form below.
Reach out when you're ready or as you have questions! (844) 367-9763
Find My Local Expert
Rock Solid Aesthetics
---
Choosing what products to use in your landscape shouldn't be hard-it should be fun and easy. When you're looking for an obvious choice for what hardscapes to go with, Rosetta Hardscapes is obviously different. Natural stone appearance and manufactured dependability blend into the quality you need and the style you want without it becoming overwhelming. When you work with us, we'll put you in direct contact with a local expert who will help you create a custom solution!
Rosetta Hardscapes isn't just another landscaping paver. It's an engineered system with consistent block dimensions and remarkable durability. That way, your project will turn out as perfect as you imagined it . . . and stay that way for years to come.
Walkways, Pavers, and Slabs
An attractive pathway with handsome pavers and flagstone is in the cards when you shop among the professional hardscaping products at Rosetta Hardscapes. You can put your personal stamp on your yard when you pick your style from our array of slab and paver products. Your choices include Grand Flagstone, Dimensional Flagstone, Linear Flagstone, Old Mission Pavers, New Mission Pavers, Superior Steppers, and Amaro Pavers which all add a touch of color and grace.
There's something about a crackling flame that brings people together. Bring a few of your closest friends and family together with a new fire pit or fireplace by Rosetta Hardscapes. When you work with us, we'll put you in direct contact with a local expert who will help you find the perfect fire feature for your backyard. Choose a Belvedere, Kodah, or Dimensional fire pit kit or work with a contractor to design a custom fireplace with Rosetta products.
Retaining, Garden, and Seat Walls
Sometimes a wall is the best way to bring your yard to life. If a wall is a way to enjoy your outdoor living space, shouldn't it be lovely? Showcase your yard - and the lovely experiences you'll enjoy in it - with a Rosetta Hardscapes retaining, garden, or seat wall.
Steps, Caps, and Accessories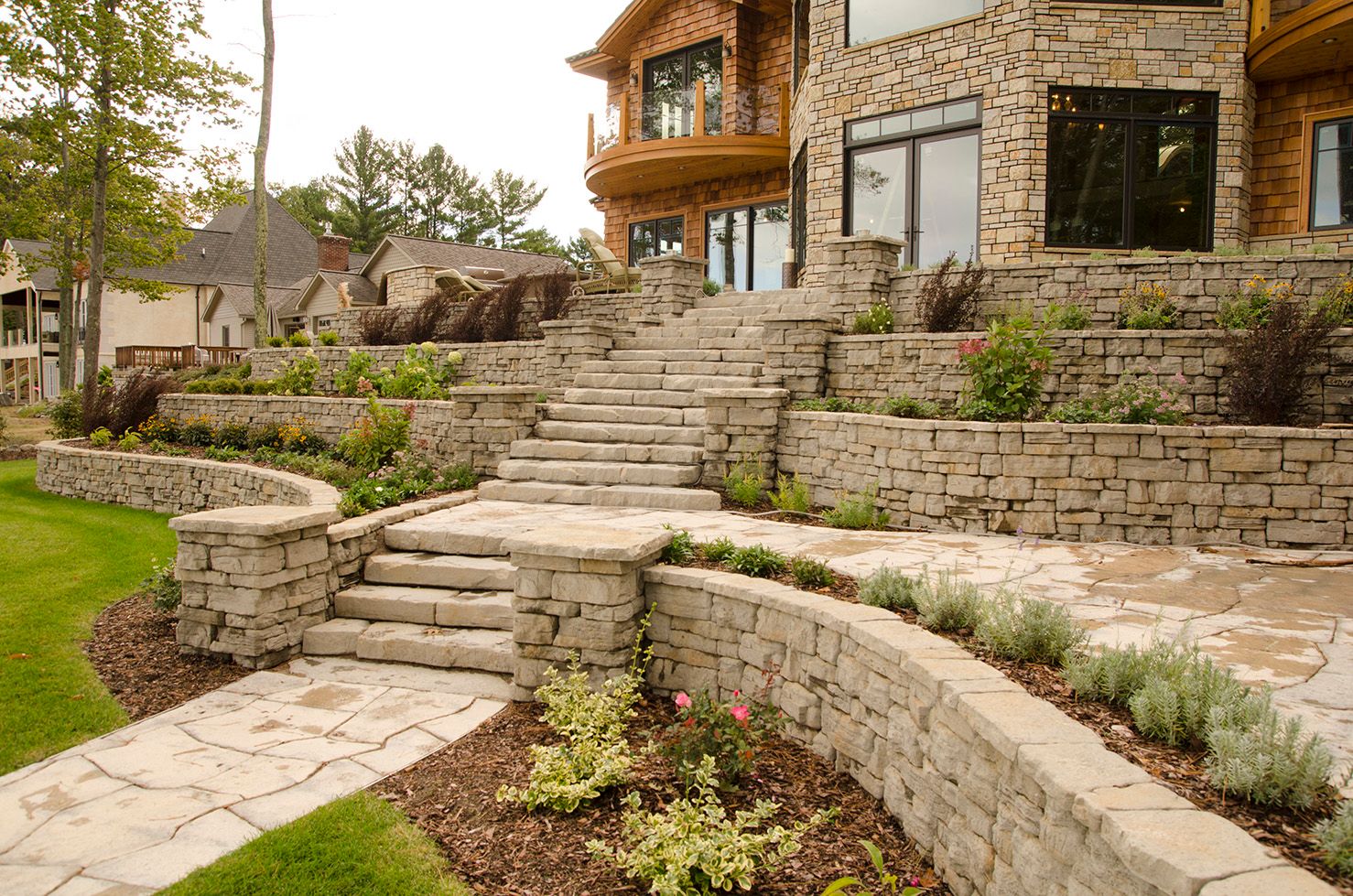 At Rosetta Hardscapes, we believe in providing you all the products you need to get that final polished look your landscape project deserves. Choose from a wide variety of coordinating steps, caps, and coping to add the finishing touches to your new entertaining space.
Contact Us
Get ready to add a bit of beauty and luxury living to your outdoor space when you work the network of friendly distributors at Rosetta Hardscapes. Contact us at (844) 367-9763 to talk about your next project. We can't wait to start working with you.